Sleep Training from Former Sleep-Deprived Moms
Diana Flutie and Leah von Philp are both Certified Child Sleep Consultants, and former sleep-deprived moms. They understand the frustration that comes with a child that won't sleep, which is why they now work with families to help them get the sleep they need and deserve.
Learn more about Diana and Leah.

Certified Child Sleep Consultant: Diana Flutie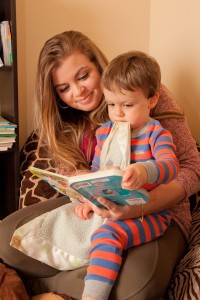 My name is Diana Flutie and I am the founder of Big Sky Lullaby and a child sleep consultant certified with the Family Sleep Institute based in Richmond, VA. As a Certified Child Sleep Consultant, I have the opportunity to provide sleep training to families around the United States, Canada and throughout Europe, get the sleep they deserve. I have spent my career as an avid child health enthusiast, and my first child lead me down the path to becoming a Certified Child Sleep Expert.
After the birth of my son Owen, I became an incredibly sleep deprived mom. With all of my experience with babies and children of all ages, I thought that I would immediately know how to handle all aspects of parenting. I was wrong! I found myself with a nine-month-old baby who woke every 1-2 hours at night and slept sporadically throughout the day. With a husband who worked away from home, I was alone with a baby who did not sleep and I was desperate for a solution.
I turned to my pediatrician for advice, and soon realized he was not a resource for child sleep like I assumed he would be. He told me it was just colic and offered no real solution. And I refused to put my baby in a room to "cry it out", even though that's what everyone around me was telling me to do.
One day, a stranger (who must have seen the look of desperation on my face) came up to me and suggested I hire an "Infant Sleep Specialist." Those three words changed my life! Within two weeks my son went from an overtired, irritable baby, to being rested and happy. I was able to enjoy being a mother because I was finally well rested and happy also!
During my pregnancy, I received non-stop advice from people about breastfeeding, diapering, clothing, and everything else that comes with being a mom. Never did anyone tell me that I needed to teach my baby how to sleep. So I decided that my mission would be to show parents that help is an option, and give them the sleep training tools to get their child sleeping.
My child sleep consultant training began with my certification through the Family Sleep Institute. I have continued to refine my expertise through studying the teachings of other sleep experts such as Dr. Sears, Dr. Daniel Weissbluth, Dr. Richard Ferber, and Kim West, as well as working directly with other established sleep experts.  I have used all of these learnings to develop my own highly successful method to help families get the sleep they need.
When I hear parents say things like, "You have given us our life back and helped us become happy, proud parents of a joyful baby boy who sleeps 12 hours a night!", I know that I chose the right career path.
Sleep Help for High Need and Special Needs Babies
My son was a high need baby right out of the gate, although I didn't know it. The term "high need" was not presented to me until I began studying to become a sleep consultant and I read a book written by Dr. Sears. I then realized there was an explanation for what I was dealing with all along with my own son.
In addition, as a toddler my son was diagnosed with Autism.  This typically is not the case for most high need children, but understanding both the high need and special needs aspect of my son provided me the knowledge to be able to tend to his needs differently. Just like we would customize the approach to teaching special needs children in school, it is critical to customize how we teach them to sleep.
I have become dedicated to working with these families and help them complete the "sleep" piece of the high need and special needs puzzle. Since I have had a significant amount of experience working with these children, it has helped me customize my approach based on the individual child to help ensure successful outcomes for every family.
Learn more about the difference between high need and special needs.
I am proud to partner with The Fussy Baby Site to help families with high-needs children, and be an expert contributor in their ebook, Sleep Training and the High Needs Baby.
Committed to Helping Teen Moms
Before studying to become a sleep professional, I worked at a therapeutic group home for pregnant and parenting teenage mothers. This was an experience I am forever grateful for and instilled in me the passion for helping young mothers.
As Baby Sleep Consultant, it has become one of my missions to provide teen moms the gift of sleep, and help make motherhood a more enjoyable experience. A young mother is empowered when she has the tools to teach her children to sleep. A healthy sleep routine for baby and mom provides the teen the time to concentrate on her education, as well as take time for herself once in a while. I believe this is essential so teen moms can have an outlet, which makes them a better parent.
Diana's Education/Certification
Certified Child Sleep Consultant: Leah von Philp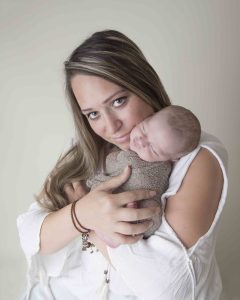 My name is Leah von Philp and I am a Child Sleep Consultant certified with the Family Sleep Institute.
With my first child, I was under the impression that a baby's sleep was luck of the draw and you put them to sleep when they "looked tired". A co-worker saw me struggling with sleep and encouraged me to take my daughter's sleep schedule more seriously. Once I began to work with her, my daughter was on a two nap schedule and was going to bed on her own without nursing or rocking, and she was sleeping through the night. After this experience, I decided this is a gift I wanted to give other parents who think a lack of sleep comes with the territory.
My goal is to help families that are having sleep issues, as well as educate parents to prevent sleep issues from occurring, so they don't have to endure the headaches and sleepless nights that I did.
Leah's Certification